From the moment you enter the driveway, you'll enter a new frame of mind: the 70's A-frame :). Built in 1974, this home was an early forerunner of today's tiny houses. It's a perfect, pocket-sized getaway with a groovy, 70's vibe. Experience the enjoyment of a NightAway in a retro, cool way. No pets and no parties please.
Interested in a NightAway at the 70s A-frame?
Hy-what?
Hooga? Hhyooguh? How you spell it or say it isn't important. You don't spell an emotion. You feel it. Hygge has been called everything from "creating the art of intimacy," "coziness of the soul," to "taking pleasure from the presence of soothing things," and one that appeals to me, "cocoa by candlelight".
Hygge is about atmosphere and an experience. It is about being with people we love. A feeling of home. A feeling we are shielded from the world and can allow ourselves to let our guard down. You may be with others in cozy togetherness or simply be by yourself enjoying a cup of something delicious but you can be sure the Hygge House by NightAway is all of these descriptions in one amazing house!
Excerpts borrowed from The Little Book of Hygge by Meik Wiking.
The Space
The eclectic decor of the Hygge House is a quaint mix that perfectly blends time honored comforts with the latest in technology. Wrap yourself in a soft velvet-like blanket while you watch t.v., read a book, work, or surf the web with fast, beefy WiFi. Enjoy the quiet of the neighborhood with the assurance that if you need anything, as your hosts, we are just a text or call away. No pets and no parties please.
Interested in a NightAway at the Hygge House?
Since 1992
We've loved this home for 29+ years and raised 3 rambunctious boys in it. We hope you'll love it too! The Knight House is a character packed, spacious, duplex style home that's newly refurbished with 2 bedrooms, 1 3/4 baths, living room, large kitchen & dining room . The smaller side of the duplex houses your hosts who live on sight. No worries. You won't see them unless you happen to pass while coming or going. Parking is in the drive close to the front door. No pets and no parties please.
Interested in a NightAway at the Knight House?
Everybody Needs a Night Away
Are you a road-weary traveler? Maybe you're someone looking for a little adventure: something different. Perhaps you're a business person wanting a quiet spot that fosters creative thought and has tools like fast, beefy WiFi, or you may just need an escape to recharge your battery -- everybody needs to experience a stay at NightAway. We work hard to provide stays that have the comforts of home and the adventure of somewhere you've never been.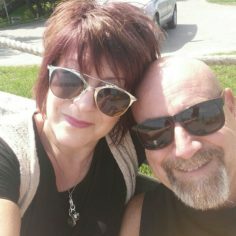 Ellen and I have called Pryor our home for 28 years. Life was rewarding but busy for us raising our 3 sons, starting a business and doing life together. At times, it could feel a little overwhelming. I remember us thinking out loud, "I just need a little down time...just a little break." Which brings us to the present time.
We have created that environment, that "little break" for those like us just needing a night away.
Why Did We Choose AirBnB?
Who wouldn't want to start their hospitality business with a time-tested, trustworthy business partner who can provide marketing, advertising, software development, secure payment options, and helpful support for our guests? All this while allowing us to focus on doing what we love: providing an enjoyable experience that that you won't forget.